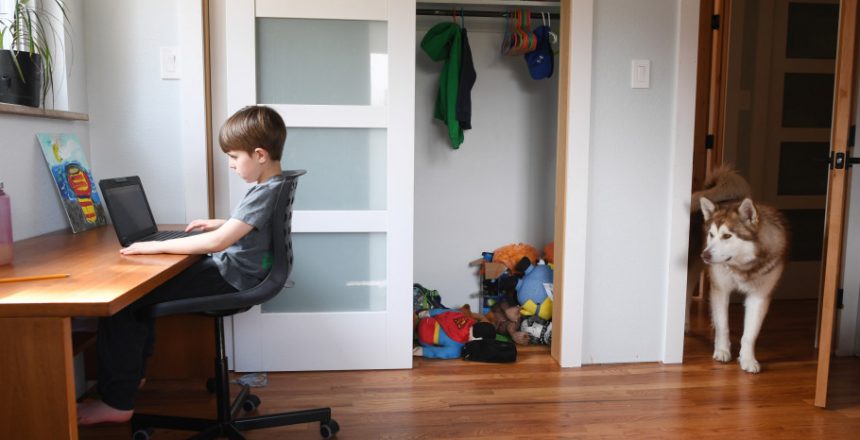 Suggestions for teaching remotely during COVID 19
Remote teaching is the ability to interact with your students remotely using instant messaging, phone, or video and screen sharing. To make remote teaching successful, school boards and teachers will need to find methods and solutions to convey the instructions and lesson concepts from the classroom to the student(s). Even at best, most parents will need to be somewhat involved. Below are some ideas that may help you find a solution that will work for your particular situation.
Here are a few simple suggestions for using technology to interact with your students while they are at home.
Choose a platform such as WhatsApp or CloudVeil Messenger and create a group for each class or grade. Update: A PC with desktop versions of these apps is recommended if sending many messages in text.
Send lesson assignments as typewritten messages or send a photo of your whiteboard with the day's lessons.
Prerecord the actual lessons for the students. Simple lessons could be described using a voice message along with some pictures or diagrams. More complicated lessons could be a video captured by using a phone or computer webcam. Lessons should be directed to the students if possible. Post to the group at the appropriate time.
Define a time period for Q&A.

Determine if questions should be sent to the group or if they should be sent directly to the teacher. Some questions may benefit the class if they are posted to the group.
You could limit questions to typewritten only messages to lower the noise on the group chat.
Example WhatsApp lesson: Download MP4
*Add a CloudVeil Messenger Account: If you have an existing USA phone number, you can get another free forwarding number at voice.google.com and set up another CVM device for your child, if you want to separate your messages. This could be done with WhatsApp as well.
*Long video messages may be problematic via messaging. If multiple short videos are not preferred, uploading the videos to a file sharing service, such as Dropbox, will be a more efficient method for sending, as well as receiving.
Here is a list of options using live screen sharing or video. We'll be listing pros and cons as we learn more about using them in a classroom setting. It's recommended that you setup a test to make sure you are comfortable with the level of complexity involved with each system. All users will need reliable Internet with decent bandwidth. Depending on the plan you choose, it should be possible to send out the recorded session in the event that someone misses a lesson. In the event that one or more students don't have reliable Internet, then consider using prerecord lessons rather than live.
All of these platforms are capable of being used in a presentation style that doesn't require a webcam. Here are a few tips on how they could be used.
Teachers would make their slides ahead of time and then use narrative to teach the lesson with the students viewing the slides while listening to the teacher.
Teachers could include pictures and even short videos as needed but it's not likely that the teacher would need to be visible as part of the presentation.
Questions from the students could be submitted via the included chat or voice with no need for a student webcam.
PowerPoint provides a tool named "Record Slide Show" that will allow the teacher to record their voice over the presentation. Once recorded, send the PowerPoint out via instant messaging or distribute in Dropbox or OneDrive. This is a simple solution and reports are that it is working very well. You may need to help some parents install the PowerPoint app on their devices or optionally export the presentation to a video format. A webcam can be added if needed. A computer with a touch screen works great for making annotations while recording. Update: Click to download demo: lessons.zip
Based on your requirements, you may need to purchase one Professional license per simultaneous teacher. Cost approximately $14 per month per teacher.
Free for G Suite users. See: cloud.google.com/…coronavirus
Offered for free due to COVID-19
Based on your requirements, you may need to purchase one Pro license per simultaneous teacher. Cost approximately $14 per month per teacher.
Virtual classrooms. Nice demo videos to give you ideas. Affordable pricing. PC required.
Professional whiteboard sharing and collaboration tool.
Looks nice, but expensive. Google requires each user to have a G suite account.
Complete student schedule / curriculum management, and remote sharing tools. Potential for sharing custom curriculum libraries between schools. UPDATE: Download example video: School.mp4
Open source (free). This software must be set up and hosted on your own server, which could then be utilized by multiple schools. Screen sharing, live whiteboard, chat, slides, etc. Approx server costs $10-20/month. UPDATE: Demo server available now, contact support@cloudveil.org for access link.
"Record your voice and iPad® screen to create dynamic video lessons". Free upgrade to Pro due to COVID 19.
Interactive whiteboard, live and recorded lessons, upload lesson content. Free due to COVID 19.
Interactive whiteboard, live and recorded lessons, upload lesson content. Free due to COVID 19. Sample Music Classes: Flashcardpractice.mp4   Lesson22Warmup.mp4
iPad Annotation / Screen Recording
An iPad can be used for simple recording and annotation of lessons. First, enable Screen Recording in Settings  > Control Center > Customize Controls, then tap the + next to Screen Recording. Now you will see the Screen Recording icon in the Control Center when you swipe down from the top right corner of the screen. Press and hold the Screen Recording icon for the option to enable the microphone. Screen recordings are automatically saved to your Photos app. Demo: video1.mp4
Note: Live virtual whiteboard presentation will be a lot more fun with either a good touch screen and pen, or a USB pen/tablet such as Wacom etc.
This is a non-comprehensive list, your comments and suggestions are welcome.
Updated: March 24 1130am CST